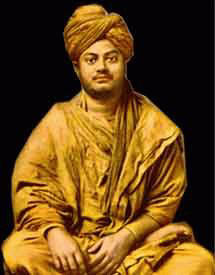 Swami Vivekananda became one of India's leading social reformers of the modern era and was a champion of humanitarianism and service to God through service to others. He is revered both in the East and West as a rejuvenator of mankind through the eternal truths of Hinduism. He spoke widely on Hinduism and its true meaning as written in the vedas and founded the Ramkrishna Mission, one of India's leading charitable institutions.
Early Life
Swami Vivekananda was born on 12th January 1863 in Calcutta to Bhuvaneshwari and Vishwanath Datta. Bhuvaneshwari had many daughters and longed for a son. And it is said that a son was born after long worship of Lord Shiva. Bhuvaneshwari believed that her son was gift from Vireshwar Shiva and so named him Bireshwar. As the name was too long, everyone began calling Biley.
As a child, Biley was strong-willed but restless. But his mother knew to control him. She would pour a few pots of water on his head saying all the while, "Shiva, Shiva, Shiva!". This would immediately quieten him and he would start meditating. Biley was always fascinated by the sanyasis (monks) in their saffron dress. He would give anything to them which was handy. He would love to play with his friends "king and court" where he would always become king. Sometimes they would play the game of meditation. Whenever he used to do this, he used to forget everything and would only think of God.
Biley was a sharp boy and before he was six, he knew all the stories of Ramayana and Mahabharta by heart. Biley used to remember everything that he heard once. This was because he used to give complete concentration to it. Biley always told the truth and always wanted to test the truth of what he was told. In times of danger, Biley always kept a cool head and did his duty.
Influence of Ramkrishna
When Biley grew up, he was given the name of Narendranath Datta. By adolescence, he had stopped meditating mindlessly in front of images as he could not accept religion on blind faith. He began asking many questions such as "who is God?", "Where is God". He would go to all the religious people he met and ask them just one question - "Have you seen God?" But no one would reply him.
Soon he met Sri Ramkrishna Paramhansa (1836-1886) who was a scholar of the Vedas, Upanishads, Sufism, the Bible, Sikhism and Buddhism. In him, Narendra found the spiritual teacher he was searching for and so he became his disciple. One night, Narendranath went into deep meditation and had a spiritual experience which filled him with bliss. Ramkrishna stressed "not mercy, but service" and encouraged Narendranath to change his name to Vivekananda. It was on August 16, 1886 Sri Ramkrishna left his body. After the death of Ramkrishna, Vivekananda committed himself to serving humanity for the rest of his life.