Mahatma Gandhi
There has never been a man like him on earth and there will never be a man like him !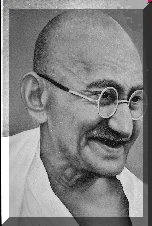 Words said for Mahatma Gandhi on the day of his martyrdom .......
"..... The object of the massive tribute died as he had always lived. A private man without wealth .... without property .... without any title ..... or any office....."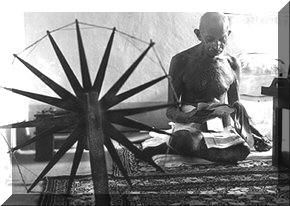 " Mahatma Gandhi was not the commander of armies nor a ruler of vast lands. He could not boast any scientific achievement or artistic gift. Yet Men, Governments, Dignitaries, from all over the world have joined hands today to pay homage to this 5'3" brown man in loin clad who led his country to Freedom. "
In the words of General George C. Marshelle, the then American Secretary of State, "Mahatma Gandhi has become the spokesperson for the conscience of all mankind. He was a man who made humility, in simple truth, more powerful than empires."
And, Albert Einstein, said "Generations to come will scarce believe that such a one as this ever in flesh and blood walked upon this Earth."
And yet this man belonging to the Indian soil has been totally forgotten by his own who do not fail to remember all the Michael Jacksons, the Amitabh Bachchans, the Aishwaryas, the Bill Gates, the Tendulkars, and many more ! The finest example of this was when a couple of years back I happened to witness the Mr Universe Event on Television and the Indian contestant answered to, who being the Man of the Millenium, as Mr Amitabh Bachchan. Neither Mr Amitabh Bachchan, who was one of the judges, nor did any among the distinguished gathering had a word of interruption. And looo ! The Indian contestant was selected as Mr Universe !!
Another example of this shameful state I witnessed when I was moving out of the cinema hall after seeing the movie "23 March 1931 Shaheed" at a posh theatre at Delhi .... and heard a couple of voices calling Bapu as "Nanga Churchill". What I thought then in my mind was, had there not been this man, those scoundrels would not be watching that movie but would have been cleaning the boots of some Englishmen in Parliament Street of Delhi. Gandhiji was a man ....... greatest man ever born ..... he was not God .... he might have made mistakes ..... but to speak of him like this is like booking a ticket to Hell. They also forgot that never did this great man think of becoming the Ruler, Prime Minister or President of this country when he could have easily done so. He was the real server of the people.
And yet another example could be presented that until now none of the Indians could make a movie so marvelous as Richard Attenborrough's Gandhi where the role of Mahatma was played by Sir Ben Kingsley who earned a lifetime fame through that role of his. And what movie did Indians made ..... on Bhagat Singh ....... they denounced this great man we call Mahatma in this movie !
Dear visitor, I will add more to the section as and when I get time. But please do send in your comments and criticisms.